If you're looking for a versatile and powerful tool to unlock and repair various mobile devices, look no further than the Nut Pro Tool. This incredible software provides a range of features and functionalities to help you with MTK, Qualcomm, ADB, and Fastboot tasks. With the ability to unlock MTK, repair IMEI, and perform Vivo Personal Format, the Nut Pro Tool is a must-have for anyone in the mobile device repair industry. Whether you need to work with Samsung, Xiaomi, or any other device, this tool covers you. And the best part? You can download the latest version for free. Read on to discover the amazing capabilities of the Nut Pro Tool.
Nut Pro Tool Download Latest Free Unlock Tool
The Nut Pro Tool is the latest free unlock tool available for download, offering a range of features to unlock MTK, Qualcomm, ADB, and Fastboot devices. Its ability to unlock MTK devices, including MTK Broom MTK Meta, and repair IMEI in Meta Mode and with Ap BP provides comprehensive support for MTK-based smartphones.
The tool also supports unlocking Qualcomm devices, including Qualcomm EDL and repairing IMEI in Diag Mode. With ADB Universal and Fastboot Universal support, it also offers unlocking for ADB and Fastboot compatible devices, such as Samsung, Xiaomi, and EFS. This tool is an essential download for anyone looking to unlock and repair various smartphone models.
What Is Nut Pro Tool
Nut Pro Tool is a versatile and powerful tool designed to unlock various features and functionalities of mobile devices. Its UNLOCK MTK and MTK Broom capabilities allow users to access and modify MTK Meta, repair IMEI Meta Mode, and repair IMEI with Ap BP. Additionally, the tool offers options to unlock Qualcomm devices, such as Qualcomm EDL and repair IMEI Diag Mode. Furthermore, it provides UNLOCK ADB functionality, including ADB Universal and Samsung unlock features, and UNLOCK FASTBOOT with Fastboot Universal and EFS for Xiaomi devices. Overall, Nut Pro Tool is a comprehensive solution for unlocking and repairing various mobile device functionalities.
Features Nut Pro Tool
UNLOCK MTK
MTK Broom 
Auto Select Model

Unlock FRP

Reset Save Format

Hard Reset

Erase Protect

Erase MiAccound

Format Userdata
MTK Meta 
Auto Select Model

Erase Meta1

Hard Reset

Meta Save Format 1

Meta Save Format Vivo

Meta Erase Demo Vivo
Repair IMEI Meta Mode 
Dual IMEI

Wrie IMEI method 1-2
Repair IMEI with Ap BP 
Vivo Personal Format
Unlock FRP

Hard Reset

Erase Vivo Demo
UNLOCK QUALCOMM
Qualcomm EDL 
Auto Select Model

Loader Custom

Unlock FRP

Unlock FRP Samsung

Reset Save Format

Hard Reset

Erase Userdata

Delete FRP (new)

Delete Pattern (new)

Erase EFS

Delete MiAccound

Disable MiAccound
Repair IMEI Diag Mode 
Read IMEI

Write IMEI method 1

Write IMEI method two qcn
Main SN-BT-QCN Diag 
Write BT

Write WF

Write SN

Backup QCN

Write QCN
UNLOCK ADB
ADB Universal 
Info Adb

Info Twrp

Delete FRP
Samsung 
Erase AccoundSamsung

Samsung Ota Disable

ADB enable

Delete FRP

Unlock screen Root
UNLOCK FASTBOOT
Fastboot Universal
Info Device

Get Anti (ARB)

FRP mode 1

Frp mode 2

Unlock Oem

Demo Vivo

HardReset
EFS 
Delete EFS (New)

Erase EFS
Xiaomi 
Disable Mi 1

Disable Mi 2

Freeze Mi app

Wipe in Mi suite
EFS 
Delete EFS (New)

Backup EFS (New)

Erase EFS
How to Use
Download & extract Nut Pro Tool v1.0.4 & Keygen to your Computer.
Open the folder you extracted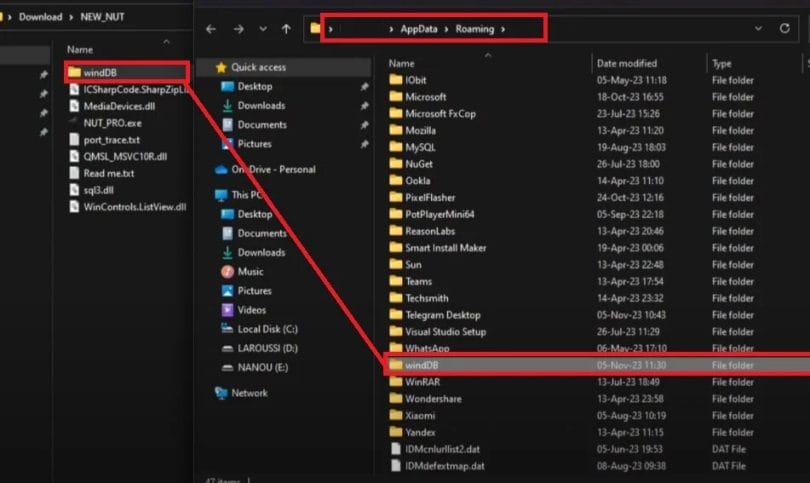 Then, copy the WindDB folder.

Paste the file into the 

"C:\Users\pcname\AppData\Roaming."

Then, run the program as administrator.

Now, the Registration window will be opened.

Copy the HWID

Then open the Keygen folder and run NutKeygen.exe
After that, copy the HWID into the Hardware ID field.

Enter any name you want to use in the name field.

Click on Register

Done,
Return to the Setup folder and use the tool as an administrator

The tool will be opened

You will receive the functions listed below.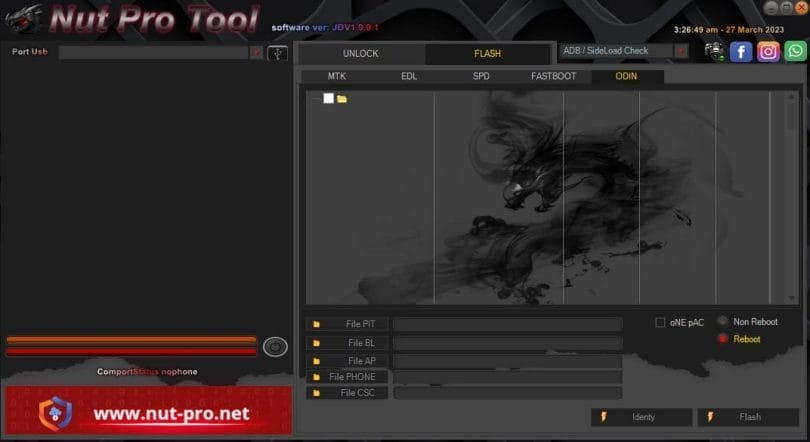 How To Download
 To download the Nut Pro Tool, visit the official website and click the (Download Link). Once the download is complete, open the file and follow the installation instructions. After the installation is complete, you can begin using the Nut Pro Tool
Nut Pro Tool
Download Link:: Usersdrive – Mediafire – Google Drive  – Drive.Filen  – Sendcm – FastuUpLoad